Queen Elizabeth Commonwealth Scholarship 2021 (Fully Funded)
Queen Elizabeth Commonwealth Scholarship 2021 for International Students:
Applications are invited to apply for the Queen Elizabeth Commonwealth Scholarship 2021. International Students from commonwealth members can apply for this scholarship. The Queen Elizabeth Commonwealth Scholarship 2021 is a unique opportunity to study for a two-years Master's degree in low or middle-income country of the Commonwealth. This is a precious award for talented students. This is a Fully Funded Scholarship to pursue postgraduate degree.
Queen Elizabeth Commonwealth Scholarship offers students from commonwealth countries who are committed to creating change in their community an opportunity to pursue their Master's degree on a full expense scholarship in a different country to widen their horizon and build a global network.
Aimed at students who are committed to creating change in their communities, the scholarships are a life-changing opportunity to experience a new country and culture, to broaden horizons, and to build a global network that will last a lifetime.
Through cultural exchange and academic collaboration, Queen Elizabeth Commonwealth Scholars help bring about positive change and find solutions to the shared challenges we face – both in their home countries and those that host them. As an active part of the Commonwealth network, scholars will help shape its future.
Queen Elizabeth Commonwealth Scholarship 2021 Details:
Degree level: Masters Degree
Scholarship coverage: Fully Funded
Eligible nationality: International
Last Date: 18 January 2021.
Join Our WhatsApp Group if You not Joined it Already
Stay in Touch & Follow us on our Social Media Platforms to Get Latest Updates for Latest Opportunities. Facebook Page 
Financial Benefits:
Queen Elizabeth Commonwealth Scholarship is Fully Free Scholarships to Study in a Masters Degree with participating Universities. The details of the Commonwealth Scholarship is given below:
Fully Funded Tuition Fees
Living expenses allowance (stipend) for duration of award
Return economy flights to their host country
An arrival allowance
Research support grant – on request only, subject to approval
Programs Offered:

MA History
Master of Business Administration (MBA)
MEd Adult Education
MEd Curriculum & Teaching
MEd Educational Foundations & Management
MEd Primary
MNSc Family Nurse Practice
MSc Agricultural and Applied Economics
MSc Agricultural Education
MSc Agricultural Extension
MSc Animal Science
MSc Chemistry
MSc Conservation Ecology
MSc Consumer Science Education
MSc Computational Physics
MSc Crop Science
MSc Crop Protection
MSc Environmental Resources Management
MSc Food Science and Technology
MSc Horticulture
MSc Mathematics
MSc Midwifery
MSc Textiles

Entry requirements: Undergraduate degree in a relevant subject area.
Contact: lnhlabatsi@uniswa.sz
Ghana:
---
All Master courses (18-24 months)
Entry requirements: Completion of a relevant degree and two years of work experience after graduating.
Contact: ipo@knust.edu.gh
The University of the West Indies:
Kenya:
---
Technical University of Kenya

Programs Offered:

MA Applied Linguistics
MA Entrepreneurship
Master of Music In Music Education Or African Music Studies
Master of Musical Arts In Composition Or Performance
MBA Business Administration
MEng Electrical and Electronics Engineering
MPH Public Health
MPhil Applied Parasitology
MSc Applied Parasitology
MSc Applied Statistics
MSc Community Nutrition
MSc Computational Chemistry
MSc Forensic Biochemistry
MSc Information And Knowledge Management
MSc International Relations
MSc Land Administration
MSc Mathematical Statistics
MSc Mathematics (Pure Or Applied Mathematics)
MSc Medical Laboratory Sciences
MSc Physics
MTech Applied Entomology
MTech Applied Parasitology
MTech Environmental Resource Management

Contact: vc@tukenya.ac.ke

University of Nairobi
Eligibility Criteria:
To apply for the Scholarships. You must be a citizen of (or hold refugee status in) a Commonwealth country
You Must Hold a Bachelors Degree at the time of admission.
There is No Upper age Limit.
Universities may have their own specific eligibility requirements for admissions.
All further questions and their answers are available (Check FAQs)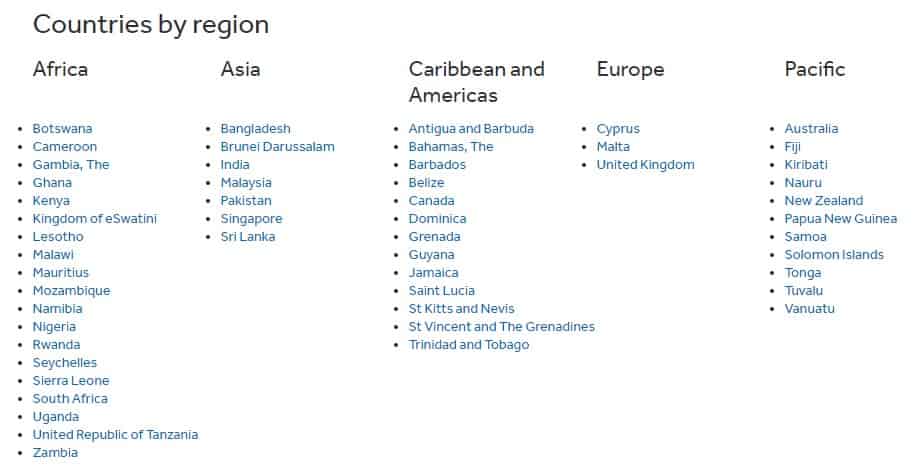 Application Deadline:
The last date to apply for the Queen Elizabeth Commonwealth Scholarship 2021 is 18th January 2021.
How to Apply for Queen Elizabeth Commonwealth Scholarship?
There is an Online Application System to apply for Queen Elizabeth Commonwealth Scholarship 2021. Link to Online Application is given below. The application form consists of the following sections:
Eligibility Criteria
Personal Details
Academic & Employment Record
Course at host university details
Statements (writing guidelines)
Upload supporting documents
Can I apply for a QECS in the final year of my undergraduate degree?
No. You must have already completed your degree and have graduated with an equivalent of a 2:1 at the time of application. As part of the application process you will be asked to provide a copy of your final transcript and degree certificate.
What is the English language requirement?
The requirement for English language testing depends on the university that you are intending to study at. Therefore you will need to look at your chosen university's admissions website to determine whether English language results are required for your admission. Some universities will require for applicants to meet their English language requirement.
Can I still apply if I do not have a valid passport?
Yes, you can submit your application without a valid passport. Instead you can provide your National ID or current invalid passport within the application form.